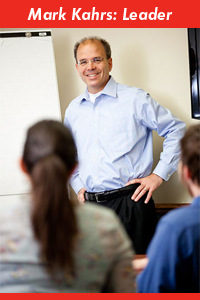 Rep. Kahrs Releases End-of-Year Newsletter
Rep. Mark Kahrs has released his end-of-year newsletter for 2013. To read the newsletter, click here.

Speaker Merrick Appoints Kahrs to Joint Special Judiciary Committee
Topeka—House Speaker Ray Merrick on Monday announced appointments to the Joint Special Judiciary Committee, charged with amending the state's "Hard 50" law for the special session beginning Sept. 3. For the full release, click here.

Kansas Chamber Recognizes Rep. Kahrs as a 2013 Pro-Jobs Legislator
Topeka, KAN. (July 12, 2013) – The Kansas Chamber has released its 2013 Pro-Jobs Legislator list based on legislators' support of sound business policy that strengthens our state's economy and attracts jobs. For the full release, click here.

Signing Ceremony for Father Kapaun
Representative Kahrs attended a signing ceremony with Father John Hotze, Representative Mario Goico and Governor Brownback recognizing Captain Emil Joseph Kapaun's "Medal of Honor". For the photograph and more details, click here.

Read Kahrs Legislative Updates
Mark Kahrs has begun releasing reports from Topeka. You can read them by visiting the Legislative Updates section.

Kahrs Sworn In; Receives Committee & Office Assignments
Mark Kahrs has received his office location and committee assignments and times. For his detailed office and Committee information, check out the Legislative Updates section. Here is an image from Monday: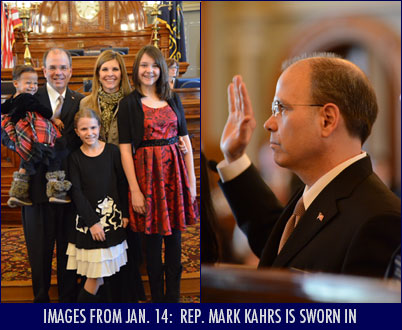 KAHRS RAISES OVER $36K FOR KANSAS HOUSE
WICHITA – Mark Kahrs, candidate for the Kansas House of Representatives District 87, which covers East Wichita, announced today that he has raised $36,570.00. With over 200 contributors, Kahrs ends the cycle with $51,696.02 cash-on-hand. Read more...
Kahrs Endorsed by Wichita Eagle
Mark Kahrs was endorsed by the Wichita Eagle, which offered the following quote of support:
"Republican Mark Kahrs is the best candidate in this newly configured far-east Wichita district. Kahrs is an attorney and small-business owner who has been active in GOP politics for years. He is smart and savvy, and will be a valuable addition in the Wichita delegation."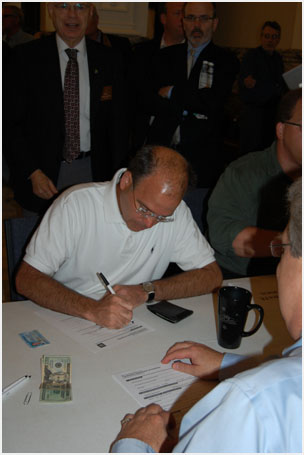 Welcome to my website!

Dear Friend,
A fourth generation Kansan, I grew up in Wichita and attended Wichita public schools. I earned my BA in Business Management from Wichita State University and my Juris Doctorate from Washburn University School of Law.
I believe the fundamental principles of lower taxes, smaller government and economic freedom will help grow our Kansas private sector economy. As a small business owner in Wichita, I know what it takes to create jobs. My first priority in the legislature will be to create a positive economic climate to promote job creation.
I believe in a citizen legislature and will work hard to be true to the conservative values that made Kansas a great state and Wichita a great place to raise a family. I am honored and humbled at the opportunity to serve you in Topeka as your Kansas State Representative.
I would appreciate your support.
Mark Kahrs