RNC NEWSLETTERS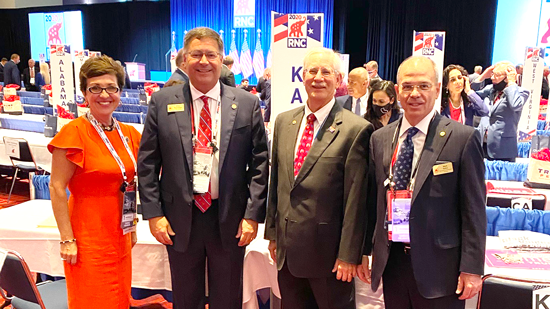 Mark Kahrs RNC Summer Meeting and GOP Convention Update -Yesterday, the Republican National Committee nominated President Donald Trump for a second term as President! I was honored to be a part of this historic event and am looking forward to his acceptance speech later this week.

Read my latest newsletter for more info on the RNC Summer Meetings, the ongoing convention and the reelection campaign as it picks up steam and rolls onward.


Mark Kahrs RNC Committeeman Campaign Announcement - I pray this letter finds you well and that you and yours have a very Merry Christmas and a Happy New Year! I wanted to take just a minute of your time to make sure you heard my announcement last week that I intend to run for a second term as your National Committeeman. It has been an honor serving you and our party alongside the esteemed National Committeewoman Helen VanEtten these past four years and I ask for your support so that I may continue to serve.

August 2019 RNC Update - It is hard to believe but we are just a little over a year out from the 2020 RNC Convention in Charlotte, North Carolina. The RNC is holding its summer meeting there this week previewing the preparations that are already well-underway for the Convention which will be August 24th – 27th, 2020.
RNC Spring Training Update - I wanted to give you a quick update on the RNC Spring Training that has been held in Washington, DC this week. Paramount on the agenda is the 2020 election and the efforts to make sure that President Trump is reelected and that we continue with down-ballot success all across the nation.
January 2019 RNC Update - Greetings from New Mexico where we are in the midst of the RNC Winter meetings where we held leadership elections. Ronna McDaniel was re-elected to a second term as Chair. Tommy Hicks was elected as the new Co-Chair. Ron Kaufman, National Committeeman from MA, was elected as the new Treasurer. Finally, Vicki Drummond, National Committeewoman from AL, was elected as our new Secretary. As our meetings conclude, all eyes are now fixed on the 2020 elections. There is much groundwork happening already and the party is lining up resources and working to get a solid ground game in place in key battleground states.

December 2018 RNC Update - As we are in the midst of the Advent Season and the rolling year, I wanted to give you a brief year-end update on your national GOP.

2018 Summer Meeting Update (July, 2018) - The 2018 Summer Republican National Committee meetings concluded yesterday afternoon in Austin Texas. Here is the latest GOP news from those meetings and around the nation.

2018 Winter Meeting Update (February, 2018) - Greetings from our nation's capital – I am in Washington, DC for the Republican National Committee winter meetings, which concluded earlier today.

Merry Christmas & Happy New Year -- Merry Christmas from our house to yours. Sherri, my family and I want to wish you a very Merry Christmas and a Happy 2018.

Republican National Committee 2017 Summer Meeting Update -- As you can imagine the past few months have brought a number of topics to the fore, all of them heavily influenced by the media and "fake news". If you have been paying attention the past 6 years, you know all about fake news here in Kansas.

Republican National Committee 2017 Spring Meeting Update -- Greetings from San Diego where the Republican National Committee just wrapped up its Spring 2017 meetings.

Inaugural Message -- Greetings from Washington, DC where just moments ago, our nation inaugurated Donald J. Trump to be the 45th President of the United States of America! I trust you join me in wishing him well on his first term leading our country and that you will unite with me in prayer that he will seek and do God's will in setting the course for our nation.

Letter to Kansas GOP -- Today I was honored to be installed as the new Repblican National Committeeman for Kansas. I am excited to serve my fellow Kansans in this new role and I look forward to working hard to bring conservative Kansas values to the Republican National Committee.">